TealTools Plus
1.22
Improve productivity with TealTools pop-up Palm Desk Accessories. TealTools includes a popup calculator, clock/stopwatch, preferences panel, editing panel, memopad, and a file/back
Last update
20 Mar. 2006
Licence
Free to try |

$24.95
OS Support
Mobile
Downloads
Total: 184 | Last week: 0
Ranking
#190 in Utilities
Publisher
Tealpoint Software
TealTools Plus Publisher's Description
Pop-up Utilities Bundle: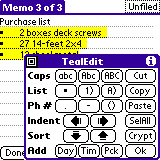 Invaluable Popup Tools
A collection of pop-up desk accessories, TealTools includes six modules that can be brought up from within any program.
The package includes a two-size calculator, dual-mode clock and stopwatch, preferences panel, editing tools panel, memo pad, and a combination file and backup manager. The package also includes a simple pop-up launcher hack for activating the modules.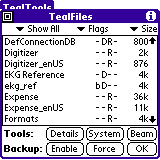 Feature Highlights
TealTools includes the following popup tools:
Pop-up calculator
Pop-up clock and timer
Pop-up editing tool
Pop-up memo pad
Pop-up file and backup manager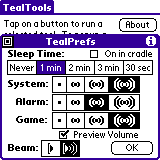 Special Functionality
Compatible with the Palm OS desk accessory (DA) standard, TealTools modules can also be launched from within TealLaunch or other DA-compatible pop-up launchers. PalmOS 5 compatible.


BONUS: A special for Handango, this enhanced bundle includes TealPoint VersionMaster for PalmOS. A $10 value, VersionMaster effortlessly tracks all your TealPoint applications, finding, downloading and installing new updates, when available.

A leading provider of software solutions for handheld devices, TealPoint Software currently offers 26+ productivity products for the PalmOS platform. Selections include TealDoc, the superior document reader, TealMovie, the award-winning multimedia player, TealAuto, the complete vehicle service and expense log, TealPhone, the replacement address book, and TealLock the definitive PalmOS security solution.


Take advantage of TealPoint's Free 30-Day Trial Policy on all products.
Look for Similar Items by Category
Feedback